This post is a roundup of all my London ventures of the previous month. It's a list of food I tried, places I visited and things I did. This post will keep you up to date with my life in London. This is the first time I do a post of this nature, but it seems like a lot of people are interested in what I do in London, so here is a quick summary. Please let me know in the comments if you would like to see this update every month!
Let's start with the London food I indulged in:
Darjeeling Express Indian Restaurant
Since the beginning of the year, I went to Darjeeling Express twice and each time the food was really good! Their all Halal menu and delicious choices are fantastic. The service is a little slow, but it's a kitchen made of home cooks, so I can let it slide. My advice is to go with plenty of time on your hand.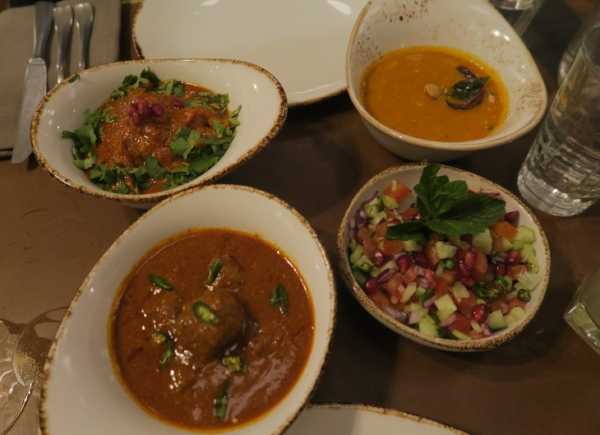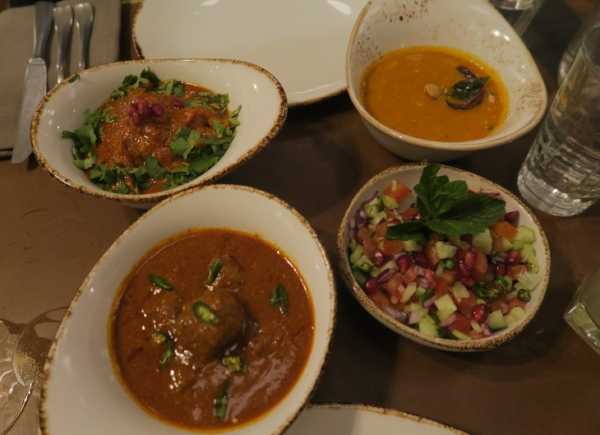 Opso Greek Restaurant
When I go out with the girls, we aim for a new restaurant depending on our location. My foodie friend, found this tapas style Greek restaurant and it was amazing. The goat curd cheese and the Fava beans were so good! We shared five tapas between the four of us and got an extra mini Fish burger each, which was more than enough!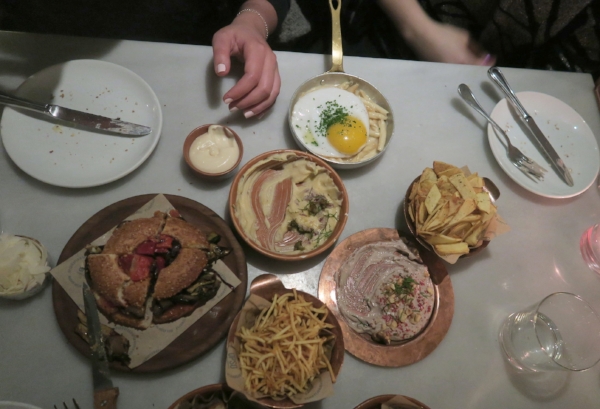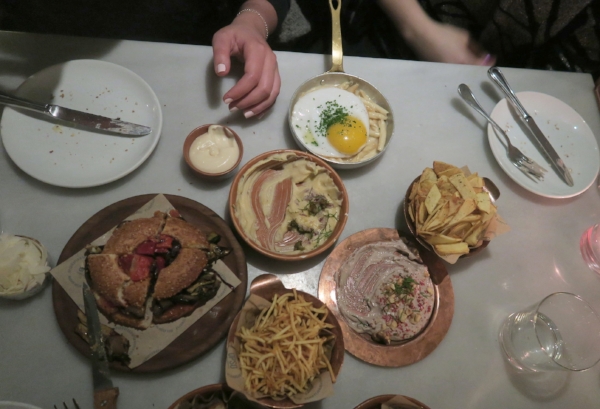 DFX Mexico
The first time I tried this place was a few years ago when it was first opened. In March, I tried the Tottenham Court Road branch and it was just average. I tried their fish tacos and cheesy fries, but it was nothing special so I won't be going back there in a rush.
The Black Penny
This is a nice cafe in Covent Garden with a nice breakfast/brunch menu and yummy dessert bar. I was impressed with their chocolate and salted caramel cupcake and chocolate brownies. It was a bit hard getting a table there on a Sunday, but if you do manage one then it's a nice cafe to chill for a bit.
Places I visited around London in March
Royal Academy
In March, I attended my first late night event of the year. By late I just mean after the usual hours of a Museum opening hours. The theme was night at the palace and I got to fully dress up, which I loved! Seeing the gallery at night wearing a gown was a little much, but it was one of the month's highlights for sure!
Rich Mix
Earlier in March, I went to the Arab Women Now festival in Rich Mix. I love the gallery space and the various things they usually have planned in there. During the day, I tried a play writing class, which was interesting. In the evening, I attended a concert in the same space for a Tunisian band and absolutely loved it! Snippets of all of that is in the video below!
Cass Art Islington
Cass Art has a few locations around London. I usually go to the one in Soho when I have any art emergencies, but this time I went to the Cass Art Islington branch to teach an art class and I really liked the location. It was close to Angel tube station too!
Borough Market
I usually pass by the Borough market a lot, but I rarely go spend the day there. I managed to visit to film and have lunch with a friend last month. It was really lovely and I should actually visit it more often.
City and Guild Art Show
Having artist friends is fantastic, I went to my friend Clare Dudeney's art show, which was part of her post graduate degree. It was fun seeing what she and her classmates created.
Things I almost bought for my London flat
I do a lot of online and window shopping, but going through with it is rare unless I feel they are very important to have. I am trying to make my space a bit prettier that's why I was considering these. I might end up making my own home accessories though! Aren't they all just so pretty and tempting?
Home Time
Speaking of my London flat, I hosted a gorgeous Spring lunch *alhamdulilah* that was mostly vegan except for the fish and the yogurt dip. I was very proud of myself and my favourite people liked it, so it was a win. It's those moments that I look forward to the most when I am not travelling.
Disclaimer: living in London is fabulous, but it has its challenges and high costs. Although, I got to do a good amount of activists it took me an hour each way to commute to and from. Also notice, there were 31 days in March and I only went out to these places. The rest of the month I was at home working! #KeepingItReal