Santorini was so beautiful no doubt, but after few days on land, I thought going on a boat trip should be exhilarating. I am not sure it fully was, but instead of answering the question: "Is a boat trip worth it in Santorini?" I am going to tell you all about the trip first and you can decide for yourself.
My friends insisted on going on a luxury yacht instead of a cheap wooden boat to avoid sea sickness and to travel in style. I went with the group's decision. I was not too bothered by the type of boat/yacht we are using. I would have preferred the cheaper option with my very limited student income, but the thought of the "hot springs" and volcanic island was too tempting to resist. We chose the sunset yacht trip option because it just sounded so romantic and we are a group of girls who are swayed by sunsets!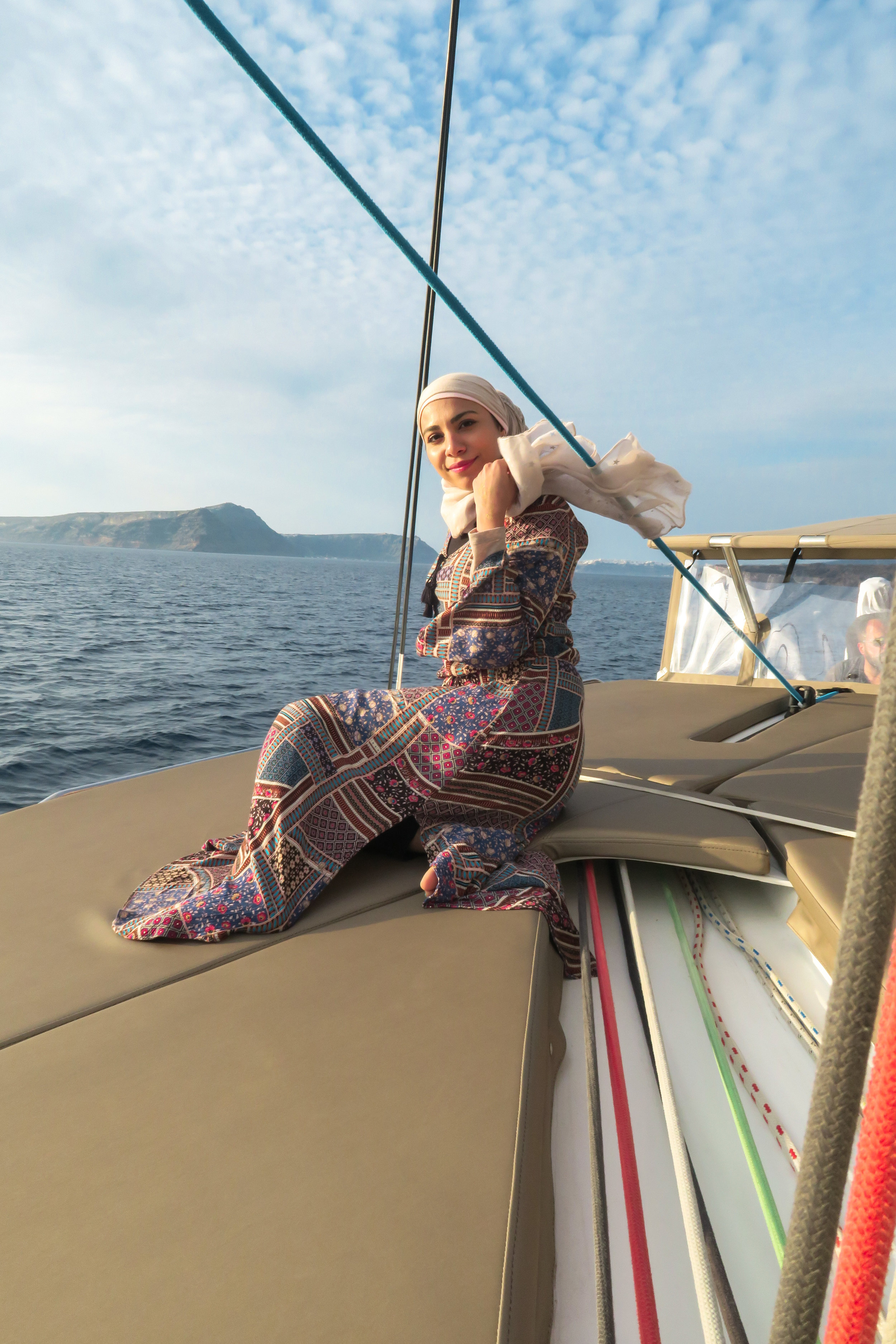 Is a boat trip worth it in Santorini?
The trip started with a pick up at 2pm. We did a few rounds to pick the rest of the people. We finally arrived to the port to the Yacht. The group size was decent. This was the "semi private" tour. There was about 13 of us with mostly couples. The second we were about to get on the yacht, we were told to take our shoes off, which was slightly annoying, but it was for safety and we weren't allowed on it unless shoes were off.
We sailed away looking at the beautiful sights in the Island. There were few scattered information about the main spots. We finally reached to my awaited Volcanic Island, which was a pile of black rocks that we couldn't even get that close to. Then we got slightly closer to the hot springs. It turns out, the hot springs were not hot or even considered springs. They were little shallow holes between the shore and the deep sea. The yacht did not even take us close to it. The time of the trip contributed to the lack of stops for us to swim. The water was FREEZING in the first week of April. I actually took ONE dip and could not carry on. I imagine I would have had a very different experience if I have had gone during the hot months.
The food was the main disappointment. We were told it was to be dinner and we all had to write our food preferences. Due to my halal meat requirement, I opted for the sea food option, but I was very specific when I told them I only ate fish or prawns. I told them in the time of the booking that I did not eat any other types of sea food. I even said if that was too hard to accommodate, I will be happy with the vegetarian option. Unfortunately, they did not take notice. I was given ONE prawn, two spoons of rice, one spoon of hummus, 2 spoons of salad and three small pieces of bread. we got two orange and apple slices for dessert. Like seriously, I am an adult and I was promised a meal. I don't know what that was. If they said it would be like that, I would have brought my own packed meal with me.
We sailed back for a while longer. Then the sun started to set. The weather was cloudy so we could not fully get the glorified experience, but it was still beautiful to witness. Although, I didn't fully enjoy the yacht experience, I appreciated the ability to do it, the views and the new lovely people we met. Plus, I got to take a few pretty photos!
Interesting Fact about Santorini Beaches: Each beach is named after the colour of the rocks around that beach (As you will see in the photos below).
Santorini Yacht Trip Facts:
Yacht Company: Caldera Yachting http://www.calderayachting.gr/en/cruises/catamaran-caldera-classichere's a similar yacht trip I found on Get Your Guide if you are interested.
Price of trip: 75 Euros each
Duration: 5 hours
Time of the Trip: First week of April from 3pm to 8pm
Summery: I spent 75 euros for 5 hours of sea with a kid portion meal and barley any swimming time.
Over to you: Have you tried a boat/yacht trip in Santorini? Would you recommend yours? Share with us in the comments below please! :)